Darlings, dearests, dumplings, it's been forever. Since my last post, I've moved to Fort St. John in the semi-North; but that is a post for another day, because today, my snorsnacks, is Harry Potter Friday. Thank you Alice, as ever, for bringing us together.
This section was super sad, made sadder by the knowledge that the saddest sads are yet to come.
So many things made me weepy in this section:
Luna had decorated her bedroom ceiling with five beautifully painted faces: Harry, Ron, Hermione, Ginny and Neville. [...] What appeared to be fine golden chains wove around the pictures, linking them together, but after examining them for a minute or so, Harry realised that the chains were actually one word, repeated a thousand times in golden ink: friends ... friends ... friends ...
While Hermione is being tortured above him, Harry "sees Ron running around the cellar, looking up at the low ceiling, searching for a trapdoor. [...] Ron was now trying to Disapparate without a wand."
Nope.
Dobby's hand jerked in his.
Ron sat on the edge of the grave and stripped off his shoes and socks, which he placed upon the elf's bare feet.
"Thank you so much, Dobby, for rescuing me from that cellar. It's so unfair that you had to die, when you were so good and brave. I'll always remember what you did for us. I hope you're happy now."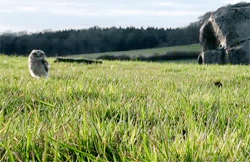 NOPENOPENOPE
So, alright, other things. Harry chooses Draco's wand because it feels friendlier. Is this because Harry and Draco have a love that endures forever, do we think, or because Harry won it back in CoS what with the dueling and the introduction of expelli
overused
mus?
And how did Harry Apparate to Shell Cottage if it had the Fidelius Charm on it?
And how can we begin to deal with this readalong coming to an end?
We CAN'T, is how.