All I can think of is to post crying GIFs, but you know what? No, is what. Because this was sublime. This was one of the best things to happen to the internet. And that's saying something, because this is on the internet:
Let's take a look at things that are awesome.


First and funniest, our untiring host, Alice at Reading Rambo. Alice, you magnificent, wonderful, crazy lady. Thank you for organizing this, for bringing us all together, for picking some seriously awesome section break-ups. May your Snorsnacks always be Crumple Horned.

Second and obviously, JK Rowling, because good crap. How do you even? It's like she told a story that we already knew and loved. She reached into our kid-brains and pulled out the world we wished we lived in. She gave us Hermione, you guys. HERMIONE. The patron saint of readers.
Third, the real heroes of these books, Luna and Neville. I don't even, there's nothing I can even add to that.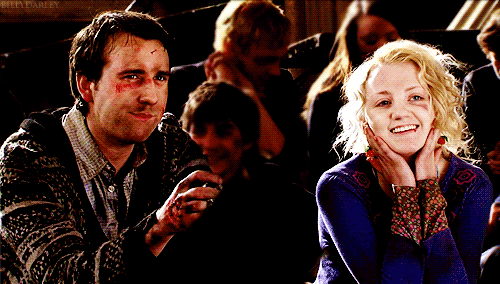 Fourth and I'm starting to regret numbering these but it's too late to turn back now, the entirely new perspective on Harry Potter that this readalong has given me. Who knew. I mean, Ginny! You guys, Ginny! Hey, Ginny, I LOVE YOU.
Freaking Harry Potter. Only this series could be so ruthlessly nitpicked by a pack of internet dwellers such as us and come out the other side more beloved. Freaking Harry Potter.

Fifth, YOU GUYS. YOU GUYS ARE AWESOME. I LOVE YOU GUYS. LET'S ONLY READ THINGS TOGETHER AND THEN WRITE ABOUT THEM IN ALL CAPS FROM NOW ON. 'K, YOU GUYS? 'K.

Last and most importantly, GIFs. Because how else can we express the emotions that this series inspires with the appropriate intensity?
Catch you on the flippity-flop, my dearest Flobberworms. It's been the actual best.
Also, I am posting this early because I finally got the spacing between those GIFs to work and I will be damned if I let Blogger eff it up while I'm asleep. DAMNED, I SAY.