The readathon happened (a month ago, I know. Get off my back), which means I have books that aren't Harry Potter that I can talk about. Shirley Jackson's The Haunting of Hill House was the first book I picked up that Saturday morn', and it was perfect.
In the book, four people seeking evidence of supernatural manifestations take up in Hill House, hoping to analyse the paranormal events that are rumoured to be common in this sprawling, eery estate. These four people are
Dr. Montague, who is running the study; Luke, who will inherit Hill House; Theodora, a light-hearted, narcissistic artist-type; and Eleanor, an isolated, sad woman "with a dark past."
The story itself feels familiar: it's been remade in various movies, including the unintentionally hilarious 1999 incarnation featuring Lili Taylor as Eleanor.
That is not a scared face. That is a "Here comes the airplane!" face.
I liked the movie for its silliness, but the book, my friends. The book was not silly. It was an exceptionally satisfying horror story, with lots of atmospheric build up that actually led to STUFF-IS-HAPPENING moments. I love atmosphere in a horror story, it's necessary, but you've got to get somewhere terrifying with it. Got to get to the scary pay off.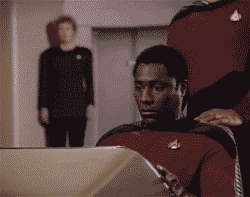 I want to make this series of faces at least one time.
I had to stop and read scenes aloud to Neil more than a few times, let me tell you.
So, read Hill House if you're looking for an excellently crafted horror book, a quick read, a good ol' time.