We're starting Harry Potter and the Half-Blood Prince this week in Alice's readalong, and you know it's getting real because, though I did write my name in this book (a practice that has long been discarded), my writing looks like my grown-up writing. Getting really real.
Spoilers ahead, as per the usual.

Not much to talk about yet. Snape has a front room we'd all swoon over, with many leather bound books.

I bet it smells of rich mahogany.
Do we buy "fear of relapse" as the reason why Dumbledore wouldn't let Snape teach DADA? I always figured it was because Snape was just to damn good at Potions to waste. I guess it would be believable for Dumbledore to be wary of letting Snape dwell on the dark arts, but do you really think Snape would snap and fall back into those presumably evil habits? I think he was burned too badly by Lily's death to ever go back.
The Dumbledore-Dursley scene makes me so happy. The man with the hat has some sass!
Por ejemplo (pg 53):

Uncle Vernon shouted, "Will you get these ruddy things off us?"
Harry looked round; all three of the Dursleys were cowering with their arms over their heads as their glasses bounced up and down on their skulls, the contents flying everywhere.
"Oh, I'm so sorry," said Dumbledore politely, and he raised his wand again. All three glasses vanished. "But it would have been better manners to drink it, you know."



And this. Sweet, sweet this (pg 57):

"You did not do as I asked. You have never treated Harry as a son. He has known nothing but neglect and often cruelty at your hands. The best that can be said is that he has at least escaped the appalling damage you have inflicted upon the unfortunate boy sitting between you."
Most importantly, in this section, Ginny names her Pygmy Puff "Arnold" and we fall in love with her all over again.
Hahaha, that's a person's name!
To Hogwarts? To Hogwarts!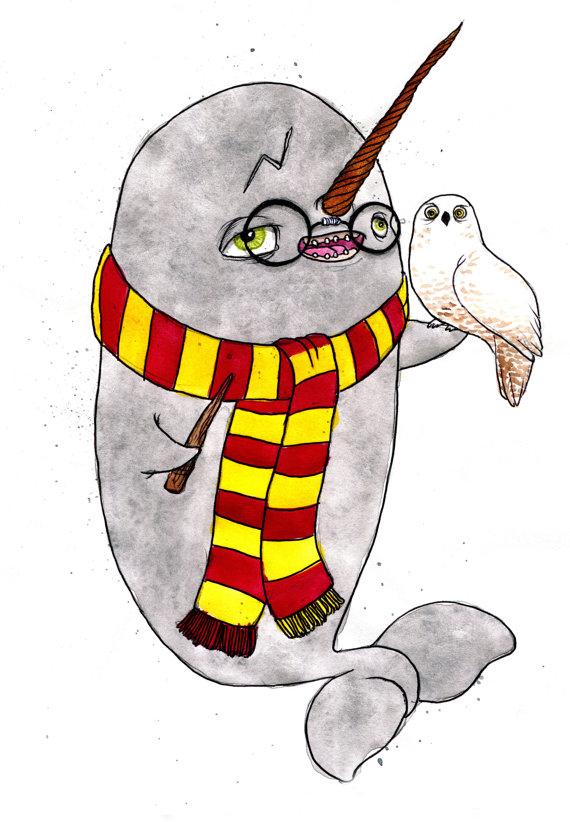 Because when is it not a good time to post a
Harry Potter narwhal? Almost never.
[by Hayley Cassatt]