This post is part of a readalong. In fact, it's the last post, so it will contain ALL the spoilers.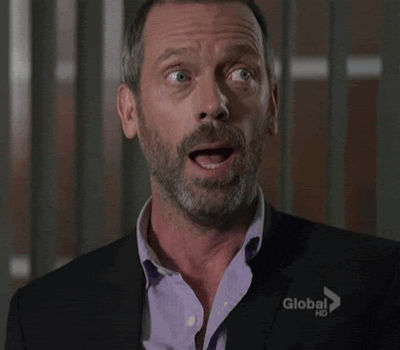 I am happy and also sad.
(My emotions are in such a state that I'm not going to adhere to any sort of structure in this post, opting instead to yell my reactions at you.)
We did it! We solved the Moonstone! And you know what? We were right from the START. (Not really, but let's take credit for it anyway, shall we? We shall.) Mother effing freaking GODFREY. You cannot trust a guy who's so chummy with all the Clacks in London. Something is up, there. The fact that Franklin literally handed him the diamond does not make him any less scoundrelly. I would really like to know more about his secret life, secret house, and secret layday.
The reveal scene where Sergeant Cuff rips off the dead man's wig etc is MASTERFUL. The fantastic Gooseberry acted as our faithful commentator, because Franklin, he is too fragile for that shit. Also I'm sure he was still hungover from the opium, and you don't want to be looking at corpses with an opium stomach. And then the double reveal with the name in the letter and AH. So good.
And hey, look at that, by the end of it all we found our Marian-equivalent in terms of sheer stupendousness and ninja-like qualities: Gooseberry! Or, as I shall call him henceforth, Gooseberrrrrrrry! I love him and his crazy eyes. He, like Marian, is stronger than you expect, and stronger than many a man in the same situation. I REALLY love how Sergeant Cuff foretells Gooseberry's future as a genius detective.
"The suspects name is ... Abby something ..."
HEY. I just realized something. Some of Wilkie's best characters, certainly the ones I get most attached to, have some physical feature that makes them abnormal: Marian (unfortunate face), Ezra Jennings (cray-cray hair and unpopular skin colour), Gooseberry (googly eyes) ... NEED I GO ON? I need not. I think Wilkie, having an extraordinary feature himself, gave comparable features to his really special characters. And having those features allowed for character development (in Marian and Ezra, at least) that couldn't have happened otherwise. Because when you're beautiful the world treats you differently. I don't know. Thoughts?
Oh, my pudding pops, this post could go on for ages. The opium experiment. Franklin and Rachel getting back together. The death of poor Ezra *SOB*. The clear romance between Ezra and Mr. Candy ("Kiss me!"). Most importantly, Wilkie gave the Moonstone back to the Indians.
Classy move, Wilkie.
All in all, a romping good time. Moar readalongs, for future! What's next, bloggerkins?