This post is part of Reading Rambo's The Moonstone readalong, and so it contains ALL the spoilers.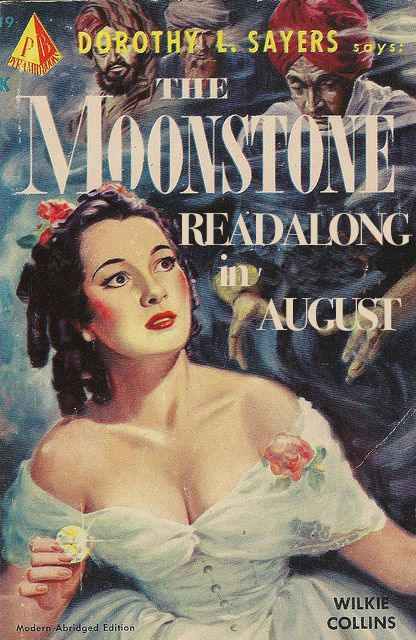 Let's be real, all I really want to talk about is Miss Clack. But first! The happenings.
"The Moonstone has served the Colonel's vengeance, Betteredge, by means which the Colonel himself never dreamt of!"
VAN DER DRAMA
So, basically, the Verinder household is falling the heck apart. Cuff suspects Rachel and totally gives credence, even though he doesn't believe it's the case here, to
Laura's theory
of Rachel stealing her own jewel to pay for her super illegal Victorian abortion: "Sometimes, the money is wanted for purposes which I don't suspect in this case, and which I won't shock you by mentioning." Yeah.
Franklin is rejected by Rachel pretty harshly, considering the times, and the man CANNOT handle it.
R2D2 can sympathize.
So he goes off to "foreign parts," a la Hartright. Basically if a male protagonist in Wilkie's books is spurned in love in ANY way, he has to leave the country. It seems like where love is concerned, Wilkie makes men out to be snivelling ninnies while lady characters are like, "Ah, yeah. All in a day."
Well, except, perhaps, poor Rosanna Spearman. The evidence strongly suggests she's met her grave, as she predicted, in the Shivering Sands. But how easy would it have been for her to have walked off in the shallow water, leaving no footprints?! Also, she sounds like she was a pretty high-class thief back in London, pre-reformatory. I don't think her feelings for a squishy aristocrat would give her enough motivation to destroy herself.
I say we haven't seen the last of Rosanna Spearman.
In the meantime, Betteredge hands us off to our next narrator, the delightful Miss Clack. I love this narrative with my whole heart, as did the readers of the time, according to the Wilks. Wilkie also tells us in his "Preface to a New Edition" that he dictated the Miss Clack narrative while bedridden with rheumatic gout. Meaning he was so, so high on opium during this whole business.
Miss Clack's narrative is a pretty bold-faced critique of a very specific breed of righteous Christian that is unique to England (Clack's chosen publications "are not to be found in the literature of any other country in Europe")
(at the time)
. It's nice because Wilkie sticks, I think, to criticizing the people, rather than the religion or God, so I can go ahead and enjoy how outright he makes her hypocrisy.
I would like to quote all the quotes, but I am at work and I didn't bring the book. But, I mean, you've read it. You remember the awesome. Now! On to more Drusilla goodness! She's no Marian but she might just be The Moonstone's Mr. Fairlie.